The
Definitive DCM
Automated benchtop slide stainer optimized for Digitial Cell Morphology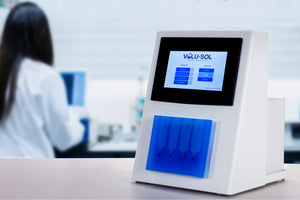 Only $5,300
Access to Volu-Sol's stain platform for as little as $5,300. Includes one stain pack that has been optimized for fast, consistent, detailed results.



Buy Now
Variable Slide Staining
Stain 1-4 slides at a time. Variable slide staining chambers allows you to run 1 slide up to 4 slides at once.
Buy Today
High-Quality Stain Packs
Volu-Sol has been making high-quality stains for over 30 years. Stain packs for The Definitive DCM have been optimized for Digital Cell Morphology. Allowing you to get premium results at an affordable price.
DCM Stain Packs
Easy to Use
Full touchscreen display that is easy to operate making for a seamless, enjoyable experience. Easily customizable settings allow you to reach stain results you prefer.